< back
Salisbury Wetlands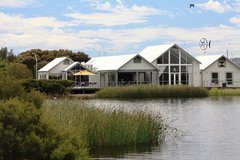 Originally the buildings located at Mawson Lakes, TIA Consulting were engaged to prepare the design and documentation for the relocation of the Building to the new site at Salisbury Wetlands. This involved:
Documenting the splitting of the building for transportation on low ride semi-trailers by road and relocation to the new site. This included close liaison with the client and Engineer as well as documenting the establishment of the building at the new location.
Designing and documenting new Outdoor Deck, ramps, car parking and upgrade of existing elevations, toilets, kitchen and new Bar and Café.
Documentation of new entry wall and fencing.
Ensure the building is environmentally friendly to the surrounding wetland.